How to Play Sic Bo – Pro Guide 2021

Learning how to play sic bo is quite simple. The game features very few rules, and while the table looks intimidating, it is easy to grasp. Once you have mastered the basics of sic bo, you will be able to play for real money in no time. Our guide will take you through the rules of the game, odds of different bets, understanding the table layout, and offer you some tips to stay ahead of the game.
Play Sic Bo Online Here
How to Play Sic Bo – Basic Rules
Sic bo has an interesting history as it originates from China. Its ancient history contributes to the game's uniqueness, and that's why it is becoming increasingly popular at casinos across the world. Let's dive into how the game works and the basic rules you need to know.
How the game works:
The game starts with players placing their bets. To place your bets, you need to place your chips on the part of the table that corresponds with the bet you would like to make. Essentially you are making a wager on what the outcome of the three dice will be.
Once all bets have been placed, an automated electromagnetic roller will roll the dice. In the case of online casinos, a computer will generate the outcome of the dice using random number generator systems. During live sic bo games, you will see a glass canister with the dice, and they will be shaken with the electric roller.
The dice will come to a stop, and you will then see if your guess was correct or not. If you have won, your winnings will be paid to you.
After all the winnings have been distributed, you can place new bets, and the game will follow the same process and mentioned above.
Now, as you can see, the game is quite simple to play, and there aren't that many rules to take note of. What you do need to learn and understand is the various bets and the payout you can expect. All possible dice outcomes are boldly displayed on the table, and understanding the bets starts with knowing everything about the sic bo table.

The Sic Bo Table
Sic bo is a game that features three dice, and you aim to guess the correct outcome of the dice roll. The sic bo table has every possible outcome of the dice roll displayed with its respective payout ratios. This makes it easier for players to pick up the game.
At land-based casinos, you may find that the table features a digital board illustrating the outcomes of previous rounds. While it may seem like a good way to establish a winning pattern, you should take it with a pinch of salt. Remember that sic bo is completely random, and each dice roll is independent of the last.
All bets are located on the table, and they are grouped based on the payout odds. The bottom row features all single number bets. As you move up the table, you will find the combination bets and, lastly, the total bets. There are also special bets at the top of the table known as specific double, triple and specific triple bets. On the two top corners of the table, you will find the big and small wagers.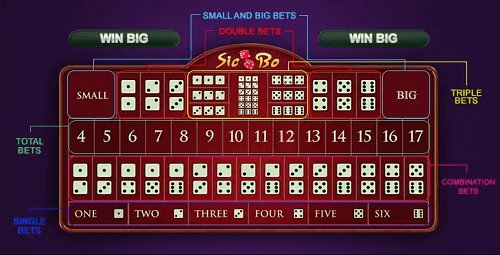 Understanding Sic Bo Bets
You can find about eight types of bets when playing sic bo. There are many options to choose from with different odds. Some bets will allow you to bet on a single number, while others allow for more complex combinations. Here is a quick table that outlines each bet.
| | |
| --- | --- |
| Sic Bo Bet Type | Wager |
| Single Number Bets | This bet means placing a wager that one of the 3 dice will have a value between 1 and 6. If the number you bet on appears on 2 of the dice, you will be paid double, and if it shows on all three dice, you will receive a triple payout. |
| Combination Bets | This bet pays 5x your initial bet. With a combination bet, you place a wager that two specific numbers will appear in a dice roll. |
| Total Bets | Payouts for this bet, range from 6x to 60x and allows players to wager on the total sum of the dice. |
| Specific Double | Wagering that a specific number will be on 2 of the 3 dice. Payout is 10x the amount wagered. |
| Specific Triple | This bet has the same concept as specific doubles, but your selected number must appear on all 3 dice. The payout is 180x. |
| Any Triple | All three dice must land on the exact number you placed a wager on. But unlike specific doubles and triples, any one number will count. The payout is also 180x. |
| Small Bet | Wagers placed that the number on all 3 dice will be between 4 and 10. If guessed correctly, your payout is 1:1. |
| Big Bet | This is the same as a small bet, but all 3 dice must reflect any number between 11 and 17. The payout is 1:1. |
While these bets seem pretty lucrative, one must remember that this is all based on luck. With that being said, some bets have lower odds and probabilities. As a beginner, we suggest staying away from certain bets, such as any triple and specific bets. These bets have a higher house edge because they are less likely to happen. Rather stick to bets that can earn you great winnings.

Sic Bo Tips and Tricks to Stay Ahead
With all casino games there are intricate details and aspects you should take note of. These aspects can help you stay in the game for longer and use your bankroll efficiently. Use these tips to enhance your knowledge about sic bo and become a sic bo expert.
Know The Table Limits
Various casinos have different limits for their table games. These relate to the minimum and maximum bets allowed. Knowing the table limits can help you determine how much you would like to spend as a beginner and how much you need to budget for sic bo games. Minimum bets generally start from about CA$10, and your max bets could probably go up to as much as CA$10,000.
Master The Rules
Rules are your best friend. If you know the rules like the back of your hand, you won't doubt yourself. This allows you to make precise bets and conscious decisions about your moves.
Play Free Sic Bo Games
Use free sic bo games to your advantage as they can help you grasp a true understanding of the game before you tackle real money and live sic bo. You'll allow yourself to master the rules and understand the table's layout and the bets.
FAQs About How To Play Sic Bo for Canadians