The Best Online Craps in Canada

Online craps is a classic casino gambling game where you place a wager on the outcome of a dice roll or multiple dice rolls of a pair of dice. The popularity of online craps has grown immensely, and you are most likely to find at least one version of the game at any online casino. The large table that craps are played on can be quite intimidating for new players, but with our guide, you will find the best online craps casinos and learn you how to play this exhilarating game.
Top Real Money Online Craps Casinos for Canadians
Our Top 5 Recommended Online Craps Casinos
Jackpot City Casino
Jackpot City Casino is a favorite among many Canadian players. With a welcome bonus up to CA$1600, who wouldn't want to sign up and start playing for real money. Jackpot City Casino offers 2 versions of online craps.
Welcome/deposit bonus: up to CA$1600
Number of games: 2
Live craps: no
Spin Casino
With a wide range of games, Spin Casino also offers gamblers an online craps experience. Sign up now and claim your CA$1000 deposit bonus and start playing.
Welcome/deposit bonus: CA$1000
Number of games: 1
Live craps: no
Ruby Fortune
Ruby Fortune features just over 450 games on their site, including one online craps game. Make use of the attractive welcome bonus of CA$750 to your advantage and start playing online craps for real money.
Welcome/deposit bonus: CA$750
Number of games: 1
Live craps: no
Royal Vegas Online Casino
Featuring a variety of online table games, Royal Vegas Online Casino also offers online craps.
Though they do not offer a live online craps feature, you can play their computerized version. Make use of their mobile-friendly services and enjoy online craps on the go via their site or mobile app available on Android and iOS.
Welcome/deposit bonus: up to CA$1200
Number of games: 2
Live craps: no
Casino Friday
Sign up with Casino Friday now and claim your CA$1000 bonus. With several casino favorites, Casino Friday offers 2 online craps games. It is also mobile-friendly, and if you need any help, they have a speedy customer service live chat.
Welcome/deposit bonus: CA$1000
Number games: 2
Live craps: yes
How to Play Online Craps
Just looking at a craps table can be terrifying. Most people tend to shy away from playing craps as it is perceived as a more difficult casino game. But, with our guide, you will feel at ease.
You may have noticed some general nuances if you have ever seen a craps table at a land-based casino.  For instance, a shooter who tosses two dice along the table and players around the table wager what the outcome will be. Once this has happened, the game then moves into different phases.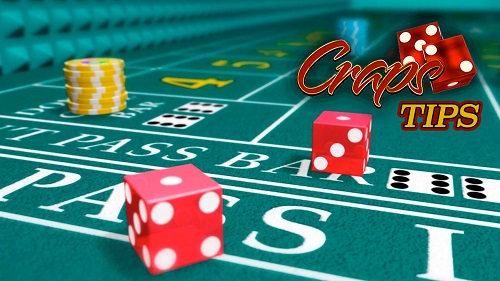 Come Out Roll Phase
The come out roll phase happens once the shooter has rolled the dice. Players then place wagers on either a Pass Line bet or a Don't Pass Line bet. At this point of the game, these are the only two options available. The shooter needs to score a 7 or 11. If the shooter rolled a 7 or 11, those who bet on the Pass Line bets would win. But, if the shooter rolled a 2, 3, or 12, those who bet on the Don't Pass Line will win. If the shooter loses, their game is ultimately over, and another player will take on his role.
Point Phase
A point phase occurs when a shooter rolls another number other than 2, 3, 12, 7, or 11; that number then becomes a point number. In the point phase, the shooter must roll the point number before they roll a 7. If the shooter can do this, those who bet on Pass Line will win. But, if a 7 was rolled before the point number, those who bet on Don't Pass Line will win.
Other Online Craps Bets
Understanding the come-out roll and point phase bets is pretty much what you need to start playing online craps, but it is worth knowing the other bets that may come into play.
Pass Line
The pass line is considered a low-risk bet and presents the lowest house edge of 1.41%. If you are new to online craps, we suggest sticking to this bet for a while until you are more comfortable. If your first roll is a 7 or 11, you win, but you lose if it is a 2, 3, or 12.
Don't Pass Line
If your first roll is a 7 or 11, you lose with the don't pass line bets. 2 or 3 is regarded as winning bets, and a 12 is a push.
Field Bet
Field bets are important in online craps. If a shooter rolls a 3, 4, 9, 10, or 11, it is considered a win. This bet can be placed at any point during a game. A losing roll would be a 5, 6, 7, or 8.
Come Bet
This is similar to the pass line bet, but it can be made at any game point.
Types of Online Craps
At land-based casinos, you may find many different craps tables offering different variations. You may also come across these variations when searching for the perfect online craps casino; therefore, it is a good idea to know what these variations are.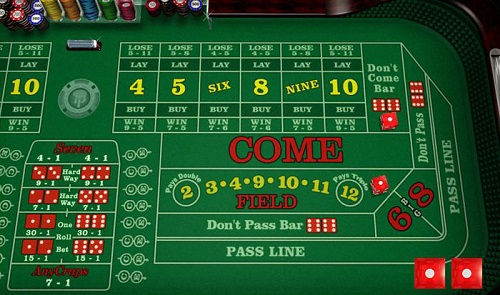 Bank Craps: this version is the commonly known one and most often called "craps." Simply roll for the pass and then continue rolling, attempting to avoid the 7 on each roll.
Crapless Craps: when playing this version, players cannot lose their money on a pass line bet when craps are rolled, or an 11 is rolled. While this version seems to favor the player, it has a higher house edge than standard bank craps.
High Point Craps: Roll a 2 or 3 on the come out-phase, and it is ignored, allowing the shooter to take the roll again. Roll 11 or 12, and you will win. All other values become a point. The aim is then to roll a higher number than the point.
Diceless craps: in some regions, it is illegal to bet on dice, and therefore diceless craps were created.  44 cards replace the dice, and then the game is played in the same way. To ensure that players are not counting cards, casinos generally only deal half a deck before changing.
Mobile Craps
Many of the casinos that we recommend are mobile-friendly, meaning that you can take any casino game with you, wherever you go. The need for mobile-friendly sites and apps has become a norm of everyday life, and online casinos have ensured that they are on the bandwagon.
Android devices are supported for online craps. Once you have found a casino, you like you can go to your Google Playstore and download the app. Responsive touchscreens allow for an enjoyable, user-friendly gaming experience.
Best online casino for Android users: Jackpot city
Best gaming provider/software developer: Microgaming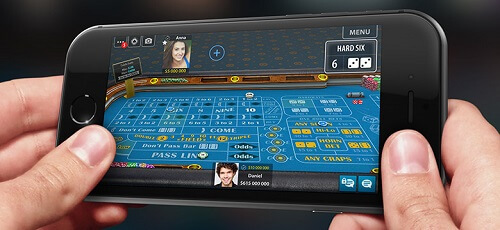 iPhones provide craps players with an easy-to-use interface with great graphics, enhancing the experience. Most casino apps are free on the Apple App Store so that iOS users can enjoy their online craps from their iPhone or iPad.
Best online casino for iPhone users: Spin Casino
Best gaming provider/software developer: Playtec
Why Playing Online Craps is Popular with Canadians
With the staggering growth and interest of craps in Canada, it is easy to understand why more and more Canadians want to head over to their nearest casino and start winning. But, even though most land-based casinos offer craps, there are some great advantages to playing craps online.
Ease of access and convenience
Players no longer need to get all dressed up to play their favorite casino games such as craps. Simply use your mobile, desktop, or tablet and log in to start playing.
Playing online craps for free gives players the chance to learn and understand how the game works. It can also help you discover strategies, tips, and tricks that help you gain a winning edge when playing for real money.
Land-based casinos cannot compete with online casinos and their endless array of bonuses. New players can claim large welcome bonuses and free spins and daily, weekly and monthly rewards.
When playing craps online, players can take their time deciding on each wager made. Ultimately, players will make smarter bets and win more money.
FAQ's for Online Craps