How To Play Craps Guide – 2021

Have you ever wondered how to play craps but did not know where to start? Well, we are here to make your life so much easier. Our how to play craps guide is perfect for beginners wanting to win real money. If you are an online craps expert, this guide can help you improve your strategies and offer insights to top-rated craps casinos.
Understand the rules, bets, and inner workings of this thrilling casino game. Become an online craps pro with the best tips and tricks for Canadian gamblers.
Best Online Craps Casinos in Canada
What is Craps?
Real money craps is a popular table casino game that is played with two dice. The game features a shooter, other players, a stickman, a boxman, and two dealers. The shooter rolls the dice, aiming for the table's wall, and the other players place wagers on the outcome of the dice, using casino chips.
A boxman is a person responsible for managing the table and all other players.
The dealers issue payouts to the winners and collect chips from the players who have lost.
A stickman controls the dice. When players have made their bets, the stickman will move the dice towards to shooter.
The shooter is the player who throws the dice. Each player across the table has a chance to roll the dice.
How To Play Craps – The Beginners Guide
Many people enjoy playing craps as it is a simple game with few rules. It is extremely popular in land-based casinos, and many virtual casinos offer live and computerized versions of the game. Even though it is so popular, it has not changed much in its rules and gameplay. The best way to start understanding the game of craps is to understand the betting rules.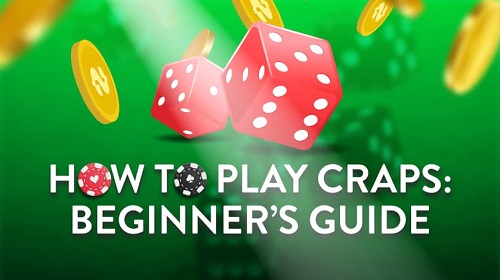 How a Game of Craps is Played
Once you have found an online craps game at a reputable casino, you can start playing for real money. Each game follows a similar progression:
The game begins with players making a pass-line bet. Players bet on the following outcomes: a winning combination of 7 or 11 or lose on outcomes of 2, 3, or 12.
The dealers then add all pass bets to the craps table.
A come-out roll is followed, conducted by the shooter.
Depending on the roll of the dice, the bettors will be issued their winnings. If the dice lands on a 7 or 11, the players who made a pass line bet will win. If a 2, 3, or 12 is rolled, the players who made a don't pass bet win.
Points are then set on the table. These include 4, 5, 6, 7, 8, 9, and 10. Players bet on the outcome of the dice landing on one of these points.
The shooter will roll the dice until they land on a 7. A shooter loses his place when he/she' sevens out. When a shooter 'sevens out,' they roll a 7.
Craps Betting Rules
There are different types of bets available when playing craps. Each bet has a different outcome, and it is extremely exciting. Remember that craps are a game of luck. It all depends on the dice roll.
There are three main bets:
Pass Line Bets
Don't Pass bets: When players use this bet, they place a wager against other players' bets on the pass line.
Pass line bets: These bets involve deciding the outcome of the dice roll. The dice must land on either a 7 or 11 for the bettor to win. If the dice lands on 2, 3, or 12, those who bet on the pass line will lose.
Don't come: When a specific wager is placed on the dice roll landing a 7 and no other number.
Come bets: When a player turns a throw into another come-out roll. The player needs to roll a 7 or 11 to win. These are similar to pass-line bets.
Pass Odd bet: A side bet that is made when a point has been made.
Multi-roll
With the buy bet: A player can buy a specific number to increase the odds. The only twist is that they have to pay a 5% commission.
Place bets: Craps features several numbers on the table. For this bet, the following numbers are included 4, 5, 6, 8, 9, and 10. Single bets are made with these numbers. If a 7 is rolled before they come out, the bettor wins.
Put Bets: Skips the come-out roll on a come bet or pass bet.
Lay Bets: Betting on the 7 before other numbers appear. By placing this bet, you are wagering that the place bet will lose.
Big 6 and 8: Acts as the place bet for the numbers 6 and 8.
Hardways: These bets are located in the center of the table and are commonly known as proposition bets or sucker bets. Most people place hardways bets by placing a 4, 6, 8, or 10 followed by one unit in the hard total.
Single Roll
Any 7 Bet: This is considered as one of the high-risk roll bets. Essentially one is guessing that the stickman will roll a 7. The house edge is much higher with this bet. There are no outcome rolls that are determined during this bet.
A Horn Bet: Creating horn numbers by doubling bets. Players bet on the shooter rolling a 2, 3, 11, or 12.
The whirl bet: This bet is also referred to as the world bet and consists of a combination of bets, including seven bets and horn bets.
Field Bet: The field bet is a one-roll bet that either wins or loses on the roll. For the bet to be valid, it must be made in the special field area of the table. The shooter must roll one of the following numbers to win the bet, 2, 3, 4, 9, 10, 11, or 12. Field bets can be made at any point during the game.

Understanding Craps Odds
Developing a strategy when playing craps online is important. The more you play, the more experience you will gain. Many people find strategies and odds complicated, but we are here to make your online craps experience as smooth as possible. Most craps pros predict the odds of each number; this comes after plenty of practice.
When determining the outcome of certain numbers, you are essentially comparing it to the fact that the dice have a total of thirty-six outcomes.
| | | | | |
| --- | --- | --- | --- | --- |
| Dice total | Possible combinations | Total combos | Odds | Odds % |
| 2 | 1,1 | 1 | 35 to 1 | 2.78% |
| 3 | 1,2 2,1 | 2 | 17 to 1 | 5.56% |
| 4 | 1,3 3,1 2,2 | 3 | 11 to 1 | 8.83% |
| 5 | 1,4 4,1 3,1 2,3 | 4 | 8 to 1 | 11.11% |
| 6 | 1,5 5,1 4,2 2,4 3,3 | 5 | 31 to 5 | 13.89% |
| 7 | 1,6 6,1 2,5 5,2 3,4 4,3 | 6 | 5 to 1 | 16.67% |
| 8 | 2,6 6,2 3,5 5,3 4,4 | 5 | 31 to 5 | 13.89% |
| 9 | 2,6 6,3 2,5 5,4 | 4 | 11 to 1 | 11,11% |
| 10 | 4,6 6,4 5,5 | 3 | 11 to 1 | 8.83% |
| 11 | 5,6 6,5 | 2 | 17 to 1 | 5,56% |
| 12 | 6,6 | 1 | 35 to 1 | 2.78% |
The Best Craps Tricks
Knowledge is power, so understanding the rules and bets of craps can help you immensely. You will make quicker decisions when you know about the various betting options, and you will soon become a craps expert.
Before playing against other gamblers, understand the basic layout of the table and the first bets that you need to make. These include: 'pass,' 'don't pass,' 'come,' and 'don't come.'
Craps is a fast-paced game, and it is easy to go overboard. Set a limit and stick to it.
Find out about different odds combinations. You will make more concise bets.
Before choosing an online casino to play craps at, understand the house edge. This gives you an indication of how much you can win.
Use the best bets available such as: 'pass' bet at 1.41%, 'don't pass' at 1.36%, 'come' at 1.41%, and 'don't come' at 1.36%.
Bets you should avoid include: 'field' bet at 5.6%, 'big 6/8' at 9.1%, 'horn' at 12.5%, 'craps 2/12' at 13.9%, and 'any 7' at 16.7%.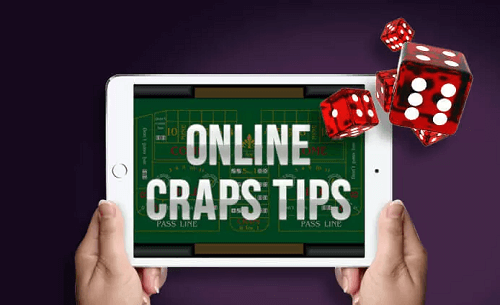 How To Play Craps: Glossary of Terms
Any Seven:  An any seven bet is not placed by the players but by the stickman. Therefore the next throw of the dice determines whether the players win or lose.
Back-Line: Another term used for Don't Pass Line bets.
Bankroll: A player's bankroll refers to the funds they have set aside for gambling.
Crap Out: Another term used to describe a 'Sevens-out.'
Come out roll: To start the game, a come out roll must take place.
Cold Table: A term used to describe a table that has no wins for a certain period.
Double odds: With double odds, you can bet twice as much on the odds of your pass line bet.
Hi-Lo: A one-roll bet on 2 and 12.
Multi-roll bets: These are wagers settled after several dice rolls or until bettors decide to remove their bets from the table.
Natural: During the come-out roll phase, if the dice show a 7 or 11, it is natural.
FAQ's About How To Play Online Craps
Other How To Play Guides
CasinosOnline-Canada is your number one guide to finding the best casinos and casino games. We have several comprehensive guides to help you learn how to play your favourite games. Check out some of our top-rated guides: