Online Bingo
Online Bingo is a casino game whereby players mark off numbers on a card that are randomly drawn by a Bingo caller. The aim is to mark off numbers in a required pattern eg. five in a row, all numbers on the edge of the card, etc. At Casinos Online Canada, we help Canadian internet gamblers find the best real money CA$ online Bingo games. Bingo players all over Canada, from Ontario to Quebec, can find the best casino games for free and for real money.
Online Bingo is a favorite at online casinos around the world and is quickly becoming a staple at online casinos in Canada too.
Play Online Bingo Games
The History of Bingo
Though Bingo only made its way to North America in 1929 (then known as Beano), the game can trace its roots all the way back to 1530 in Italy.
From there, it spread all over Europe, morphing and changing as it went along.
When Bingo was first played in America, it was called Beano, as players would park their cards with beans (instead of ink dots like the modern version) and would yell "beano!" if they won.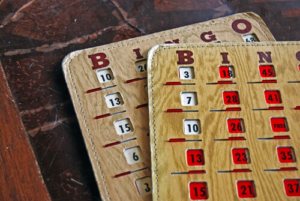 Toy salesman Edwin Lowe saw a game of Beano being played, and mistook the yell for "bingo!".
He then enlisted help to develop the game, including noted Columbia math professor Carl Leffler, who helped him develop the non-repeating sequence for Bingo cards.
The games popularity skyrocketed across North America and made its way to Canada, where the Canadian Criminal Code was amended to allow Bingo games as long as they were run for charitable purposes.
Today, live Bingo (at land-based casinos and Bingo halls) and online Bingo are two of the most popular online casino games available for players to enjoy.
Online Bingo for Money
The best way to enjoy online bingo is by playing for real money. Though, it should be noted that this isn't always the best way to start. More on that in the next section.
To play online Bingo for money is as easy as pie. All players need to do is register a profile at one of the licensed and trustworthy online casinos featured on Casinos Online Canada that offer online Bingo.
They can then make a deposit into their account via one of the offered banking methods (like an EFT, credit/debit card, or via an eWallet), take advantage of the welcome bonus, and choose a version of online Bingo to play.
Free Online Bingo Games
Although most players choose to play online Bingo for money, some players also prefer to play free online Bingo games.
Free online Bingo games are an important part of an online casino. As many players who haven't played the game before, can learn all the rules of the game and how to play. However, doing so while playing for real money puts them at risk of incurring big losses. That is why most online casinos offer free online Bingo games.
Most do not even require a player to register a profile to play for free.
At Casinos Online Canada, we recommend that all new players first learn the rules of online Bingo (which is thoroughly explained in our How to Play Bingo page) and play for free, before wagering any money.
Bingo Number Nicknames
In Bingo, as with Craps, numbers all have nicknames. These colorful names add a bit of extra fun to the game. Some of those nicknames are:
| Number | Nickname |
| --- | --- |
| 1 | Kelly's Eye (A reference to Ned Kelly) |
| 5 | Man Alive |
| 12 | One Dozen |
| 17 | Dancing Queen |
| 22 | Two Little Ducks |
| 35 | Jump and Jive |
| 44 | Drooping Drawers |
| 57 | Heinz Varieties |
| 88 | Two Fat Ladies |
Online Bingo Glossary of Terms
Bingo, for both online and land-based games, all have a set of terms which can be dizzying to understand. In this section, we explain some of the more common Bingo terms.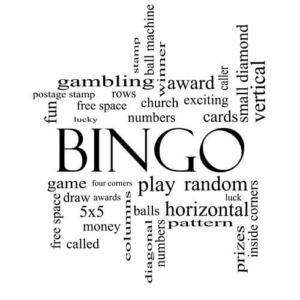 Any Way
Usually, in Bingo, a player's numbers need to align in a pattern before they can call Bingo. However, in an 'any way' game, this pattern, a 'C' for example, can lie in any way on the card, eg. Normal or inverted horizontally/vertically.
Bingo
The name of the game derived from the name of the game Beano. Also, what players need to call out if they have matched all the numbers called out to those on their card.
Bingo Marker
This is more commonly known as a dauber. This is the colored marker used to mark a number that has been called out if it matched the number on a player's card.
Caller
The adjudicator that calls out all the numbers that have been drawn. In an online Bingo game, the numbers are usually just displayed on screen.
Game Board
A board that shows all the numbers that have been drawn, to ensure that players who may have missed a call have the chance to catch up and get a fair shot at winning.
Coverall
A long-form version of Bingo. This version of Bingo is where all the numbers on a player's card has to be called out before they can call "Bingo!". Usually, this means 50-60 numbers need to be drawn before it can happen.
Quickie
A version of Coverall where all the numbers are called out in rapid succession to minimize gameplay time.
Wrap Up
This is the name given to the last Bingo game of a session/day.
FAQ for Online Bingo