How To Play Roulette Complete Guide 2021

Discover the best tips and tricks on how to play roulette like a pro with our Canadian casino games experts. Whether you are interested in European, American or French roulette, this is the guide for you. Many gamblers know the iconic roulette wheel that features a series of numbers. Place the right bet, and you could be a winner.
Our guide will help you with strategy building and understanding the basic rules, bets, and roulette variations. Soon you will be ready to play for real money and try your hand at live roulette games.
Canada's Top-Rated Roulette Casinos
How To Play Roulette
If you glance at a roulette table, you may feel apprehensive about getting started, but it is quite simple to understand. The table is generally green, with numbers ranging from 0 to 36 on a grid. These numbers are also located on the roulette wheel, where they follow a series of black and red.
The online casino's interface spins the wheel with a small white ball that spins in the opposite direction. The ball will eventually stop and land on a specific number. The table also features different side bets, which we will explain in detail for you.
Understanding the Roulette Table
Now that you have a basic idea of how the game works, let's unpack the online roulette table. Many elements come together to create this exciting casino game, and the table is one of the most important factors.
The table features a grid and the roulette wheel.
There are numbers on the grid and the wheel ranging from 0 to 36, and they are identical.
American roulette tables feature an additional number known as 00.
All zero numbers are colour-coded in green.
Players can place wagers on single numbers, groups or rows.
You can also place bets on odd or even numbers.
Wagers can be placed in colour, like black.
Players place wagers in the form of casino chips.
As mentioned, different online roulette variations have different table layouts. The gameplay is similar, but the bets differ.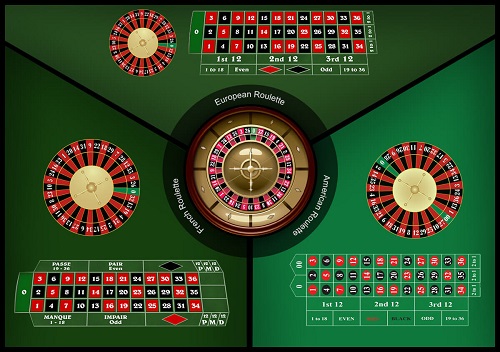 American Roulette Table Layout
The American roulette table is played with 38 numbers. The house edge is slightly higher because of the addition of the 00.
French Roulette Table Layout
The French roulette table features one 0 followed by the standard 36 numbers. There no other numbers, but there are two important rules.
En Prison: This rule allows the player to recover their stakes after a spin of zero, provided that the bet had even odds such as high – low, red – black or even – odd.
La Partage: This is a feature where half a player's stake is returned if they placed an even money bet and loses by the ball landing on zero. Even money bets include red – black, 1 – 18/19 – 36 or even – odd.
European Roulette Table Layout
The European roulette table offers players the best odds. There is only one 0 on the table, which decreases the house edge. Numbers are arranged from 0 to 36.
How Roulette Betting Works
Most roulette players use 'inside' and 'outside' bets displayed on the table. Inside bets are any wagers made on the inner section of the roulette table, for example, a number on the grid. Outside bets are wagers made on anything not part of the grid, such as odds, colour or low numbers.
The screen will indicate when to make wagers when playing online by stating, "place your bets." At this point, you can place your casino chips on the numbers you think the ball will land on. Once you have placed your bet, you need to lock in your bet. Once the ball begins to spin, the phrase "bets closed" will appear on the screen, and you will not be allowed to place additional bets.
Here are some common bets that you can make when playing online roulette
Straight-up bet: Placing a wager on a single number.
Split: A bet split between two numbers.
Street: A bet over three numbers in a row.
Corners: A bet that covers four numbers.
Basket: This bet covers the numbers one, two, three and zero.
Line bet: A line bet covers six numbers in two rows.
Column: This bet covers twelve numbers going down the column.
Dozen: As the name suggests, this bet covers twelve numbers.
Low Number: A bet placed on the low numbers from 1 – 18.
Odds: Bets placed the ball landing on an odd number.
Even: Wagers placed that the ball will land on an even number.
Red or Black: Placing a bet that the ball will land on a black or red value.
High Number: Betting that the ball will land on a high number from 19 – 36.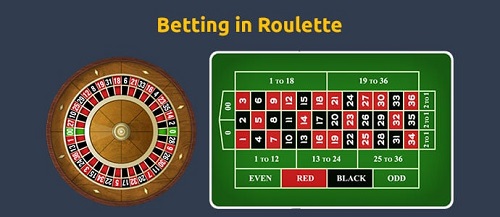 Top 5 How To Play Roulette Tips
There are many ways to ensure that you enjoy playing roulette online. Being able to win your bets and stay in the game is a good thing, and we've got a few tricks up our sleeve to offer you.
Understand your variants
Remember that each variant has different elements, such as rules and odds, influencing your decision. We know that the European version is the favourite and has the lower house edge, but maybe American roulette is your lucky game. You never know until you try.
Free Games and Roulette Simulators
Free roulette games and simulators are a great way to practice and hone your skills. You can practice as much as you need to without spending real money. We all know that practice makes perfect, so take your time and remember that becoming an online roulette pro does not happen overnight.
Choose outside bets
It may sound like a safe and boring option, but we suggest choosing outside bets. Once you understand the ropes and can make more complex betting choices, stick to outside betting. They may have lower payout ratios, but they are less risky. It also gives you at least a 75.7% chance at a payout.
Money Management
Always keep track of your bankroll by making a budget and sticking to it. Managing your bankroll also means knowing when to stop. If you feel that you are losing more than winning, consider exiting the game and trying again tomorrow.
Think About Odds
The odds of different bets are not only based on your wager but also the type of bet. Each bet has a certain bet ratio, so always keep that in mind.
Roulette Winning Strategies
Roulette may be a game of luck, but you can utilize strategies to improve your chances of securing a win. Most online roulette gamblers use these two common strategies, so it is good to keep them in mind.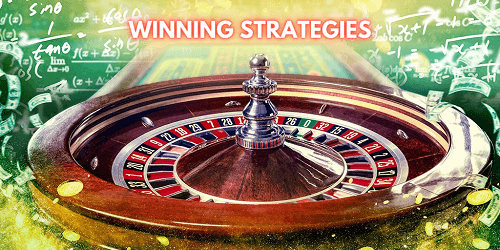 The Martingale System
The following system suggests that players should increase their bets after each loss. We know it sounds risky, but it has been tried and tested. When using this strategy, you should expect a couple of losses, but do not be dismayed. The best way to utilize this strategy is to bet on even money for outside bets. Even though that has a lower payout, those bets have a higher chance of winning.
The Paroli System
Many refer to this system as the reversed Martingale. It was first used in Monte Carlo many years ago, and it is suggested that you double your bets after every win. It's one way to take advantage of any winning streaks. Some players have recommended outside bets to use for this system. Once you become more confident, you can then place inside bets for a more adrenaline feeling.
FAQ's About How To Play Roulette