How to Play Blackjack Guide 2021

Whether you are a beginner or a pro gambler, our how to play blackjack guide will give you the winning advantage. The game of blackjack is simple enough to play. Your goal is to get as close to 21 as possible with the cards you have been dealt. Your hand must be higher than the dealers' hand.
While most casino games are based on luck, you can still use tips and tricks to gain an advantage. Our team of experts has devised a detailed guide for all blackjack enthusiasts, so let's jump right in!
Top Online Blackjack Casinos in Canada
How To Play Blackjack Step By Step Guide
Playing online blackjack is as simple as it would be at a land-based casino, except hundreds of people don't surround you, and you can play at your own pace. Once you have signed up at an online casino of your choice, find one of the real money blackjack games. Upon selecting your game, follow these easy steps:
Step 1: Join a table
After you have joined the table, the dealer will start the game by giving each player two cards face up. The dealer receives two cards, one face up the other face down.
Step 2: Choose your move
Once your cards are revealed, you need to choose one of the following options: hit, stand or split.
Step 3: Determine your hand value
Depending on the choice you made in step 2, you'll have a different hand value. Should it be below 21, you'll remain in the game. If your hand value exceeds 21, you have lost against the dealer.
Step 4: Dealer reveal
After each player has placed a bet, the dealer will reveal his second card.
Step 5: Determining a winner
The hand closest to 21 wins. The dealer will then hand out any winnings if there are any lucky players. The payout is dependent on the type of bet placed.

Basic Rules for Playing Blackjack
Now that you understand how the game works let's look at some important things you need to keep in mind. Along with different bets and strategies, it is also good to understand what payouts you can expect.
Common Blackjack Bets
Hit: When a player chooses this, they have a small value hand and ask the dealer for an additional card.
Stand: This means that you are content with the hand you've been dealt and do not want more cards.
Split: To split means that a play has chosen to turn one hand into two. The two cards dealt to the player will be separated on the table into two areas next to each other. Players generally do this if they have two cards with the same value.
Double Down: Players can choose to double down their bet mid-hand. This means that you can double your stake and receive one card only. It is mostly done on a hand that has a value of 9, 10, or 11.
Surrender: Some online casinos will allow a player to surrender half of your bet if you are unhappy with your hand.
Soft 17: Any hand that has an Ace is referred to as a soft hand. This is because the Ace has two values, 1 or 11. Some online casinos will require that the dealer hit on a soft 17, while others make you stand.
16 and below: The dealer must hit on any hand valued at 16 or below.
Basic Blackjack Payouts
| Win | Meaning | Payout |
| --- | --- | --- |
| Regular | When your hand is closest to 21 | 1:1 |
| Blackjack | When your hand equals 21 | 3:2 |
| Insurance | If the dealer's first card is an Ace, this bet protects you in case the dealer has a 10 as his second card | 2:1 |
Understanding Perfect Pairs in Blackjack
There are three types of perfect pairs with different payouts. If you take a gamble and place a perfect pairs bet, you can win when the first two cards are dealt. These pairs are known as:
Perfect pairs: the same suit
Coloured pairs: different suits with the same colour like 4 of clubs and 4 of spades
Mixed pair: different suits with a different colour like 8 of hearts and 8 of diamonds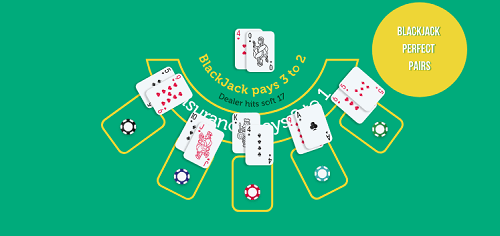 How to Use a Blackjack Strategy to Your Advantage
When gambling online, create a strategy and stick to it. If you have general rules and guidelines to follow, you limit the chances of losing large chunks of your bankroll. Here are some quick tips that will help you enjoy any blackjack game.
Do not split your face cards and 10s. It is more likely that you will win with a value of 20 instead of splitting your cards into two new hands. We do, however, recommend that you split your Aces and 8s. This way, you have more chances of winning with either one of the hands.
Don't forget there are chances that the dealer will bust. So, if a dealers' hand shows an open card with a value of 4, 5, or 6, do not draw unless you have a soft hand. The more cards a dealer has to draw, the higher the probability that he will lose.
Common FAQ's About How To Play Blackjack