Online Baccarat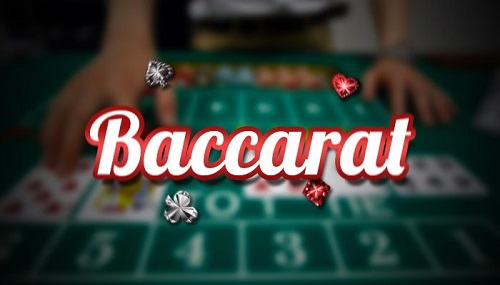 Online Baccarat is a classic gambling card game whereby players hold two- or three-card hands, which is later divided by ten. The aim of the game is to reach a hand totaling or as close to the value of nine as possible. At Casinos Online Canada, we help internet gamblers find the best online Baccarat games in Canada. Online casino players from Vancouver to Montreal, can play Baccarat for free or for real money, using Canadian Dollars (CA$).
Baccarat is easy to play and understand. Players will hold between two to three cards at a time and place wagers accordingly. Online baccarat can either be played in CGI format or through a live casino option in which players will interact with an actual human dealer through a video stream function. There is a ton of fun for all gamblers indulging in a game of online baccarat, so read on to discover more about this classy casino classic!
Play Online Baccarat Games
Online Baccarat – A History
The term 'Baccarat' is derived from the Italian word meaning zero. This is due to the fact that in this casino game, tens and face cards (jacks, queens and kings) all hold the value of zero. Since the name is taken from the Italian language, it only makes sense that this is in fact the game's country of origin. Like most casino games, the exact date of birth of baccarat is unclear. The first recollection of the first version of the game dates back to Italy during Medieval times.
Although first being mentioned in the 1400s, it took a few more centuries of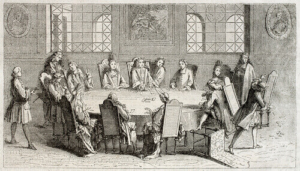 development before baccarat became the premier casino game of choice in Europe. Roughly five hundred years later, baccarat had turned into a favourite of the royal court, being enjoyed by nobles across Europe.
During this time, there were many versions of baccarat circulating the secular scene, however, in modern times, three variants remain; Chemin de Fer, Baccarat Banque and Punto Banco. The game took off in popularity in the modern era when it was made to be the game of choice of super sleuth James Bond.
Online baccarat started making its appearance in cyberspace soon after the birth of the first online casino in 1994. Today, we have CGI baccarat, mobile baccarat and live dealer baccarat to enjoy straight from the comfort of our homes. If baccarat is your casino game of choice, then trust that you will surely be able to find a version suited to you online.
Online Baccarat Canada Variations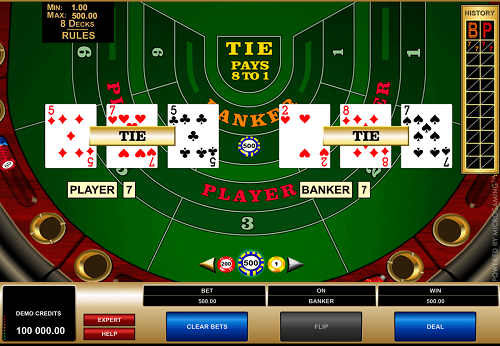 To date, there are three classic versions of baccarat available for gamblers to enjoy online. Namely, they are; Punto Banco – most commonly found version across the board, Chemin de Fer and Baccarat Banque. We shall take a look at all of the different versions briefly below.
Punto Banco
As previously mentioned Punto Banco is the most commonly found version of the game across the world – including our very own home town, Canada. In many situations, Punto Banco will simply be referred to as baccarat as it is deemed as the casino – both online and land based – staple in many countries. The biggest difference between Punto Banco and the other two variants is the fact that this version of baccarat is completely dependent on chance.
Punto Banco is dealt from a shoe containing four, six or eight different decks of cards. All of these decks are shuffled together. Only two hands are dealt in this game; the Punto – player, and the Banco – bank. In this particular game, the player doesn't necessarily refer to the players seated round the table, nor does the Banco hand refer to the house. Players can wager on either hand and three bets may be made initially: Punto will win, Banco will win, or both hands will draw.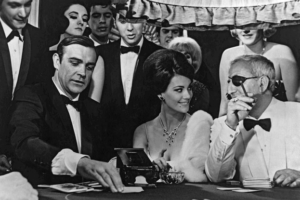 Baccarat Banque
Baccarat Banque runs on similar rules to Chemin de Fer. However, a player will never be deemed as the banker and the casino takes full responsibility of the bank play. Since baccarat banque is run along the same rules as Chemin de Fer, this means that the player will have the ability to change the outcome of the game.
In the gambling Mecca that is Monaco, the popular game of baccarat banque soon developed into another version of the popular card game which goes by the name of Baccarat à Deux Tableaux. This version on Banque allows the game to accept a greater number of players. Essentially, Baccarat à Deux Tableaux is just baccarat banque being played over the spans of two tables (à deux tableaux – French for two tables).
Chemin de Fer
Chemin de Fer, also known commonly as Shimmy or Chernay, is the oldest version of baccarat which is still being played to date. This version is the original version of this classic card game, dating back to France in the 1400s. Directly translated, Chemin de Fer means "railroad" or "the railway" in French. Chemin de Fer can house up to a maximum of twelve players per game and the aim of the game is to reach a hand total of nine with only two or three cards.
Baccarat Card Values
Card values in Baccarat differ to most casino card games played in Canada. Any playing card between two to nine holds its face value. A ten or face card – jack, queen or king – will equate to zero and an ace will give you the score of one.
Tallying your hand in baccarat can be quite a daunting task at first, but in essence, it could not be simpler. If you are dealt a hand over the value of nine, the right most number of the total will be the actual value of your hand. For example, if you are initially dealt a nine and an eight by the dealer, the sum of nine and eight equates to seventeen. Therefore, your hand is actually valued at seven. In the same right, if you are dealt a ten, jack, king or queen, these count as nothing towards your hand. For example, you are dealt a jack and a three. Your hand is therefore only valued at a total of three.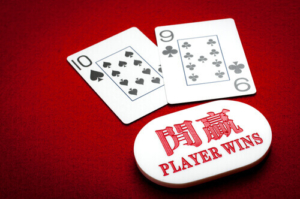 Online Baccarat Terms
Banco
A term used to describe the banker
Banker or Player Wager
Betting on either the bank or player hand – not a tie bet
Caller
The dealer or croupier at the baccarat table who is responsible for the cards
Free Cards
All zero cards in baccarat are known as free cards; tens, kings, queens or jacks. Also known as a monkey
Le Petitte
French for the little one, a natural hand totalling eight
Mini Baccarat
A smaller version of the original baccarat table used to popularize this card game among the masses at land based casinos
Natural
When your initial two cards dealt equal either eight or nine
Palette
A long, flat wooden device used to move baccarat cards across the table by the dealer at land based and live casinos
Pass
To win
Shoe
An automatic card dealing machine within the casino world used to sort through cards avoiding human errors – used in live casinos online
Online Baccarat FAQ