How to play Baccarat
Casinos Online Canada offers an exclusive on how to play online Baccarat for all kinds of players looking to have a fair gambling experience.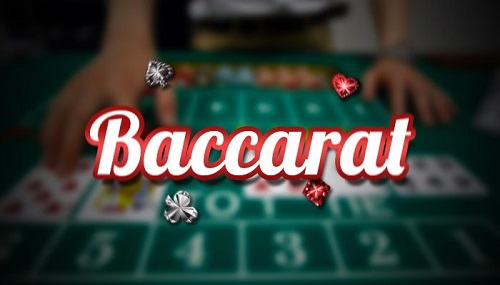 You'll learn the history behind the classic card game and how much value online Baccarat brings to the table. We'll discuss the rules and variations of online Baccarat, the odds, and the house edge. With Casinos Online
Canada, you will learn the best ways to win real money at online casino sites that you prefer. Before you start playing online Baccarat, always look out for the casino site of your choice by checking out how we rate the best online casinos.
How To Play Baccarat Online in Canada
The aim of online Baccarat is to get as close to 9 points as possible using two cards. You'll learn the types of strategies to use when playing online. It's an old favorite from the Bond days, so pay close attention to the rules, and you'll be playing like a pro in no time.
Select your best online casino and then pick your Baccarat game.
Make a decision on whether to bet on the player or the banker. You can also bet on the tie as a hand in online Baccarat.
The player and the banker are dealt two cards each.
Get as close to 9 points as possible.
If you have a combined card value of less than five, they will get a third card.
You'll win if your card's total is 8 or 9.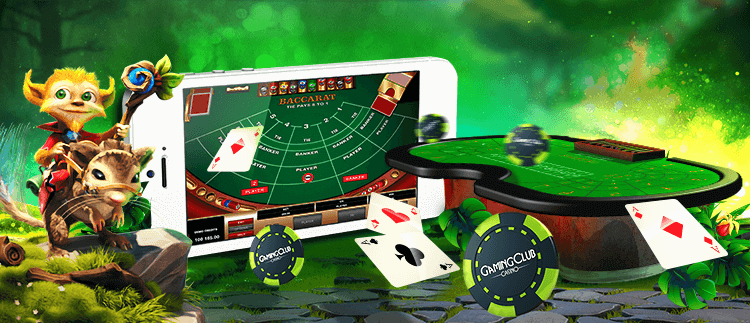 When you learn how to play online Baccarat, it's good to know what kind of advantage you have over the casino and vice versa. Online Baccarat has the lowest house edge, so take this opportunity to learn what house edge you're playing against.
On a player's bet, the house edge advantage is 1.36% to the casino over the players.  A tie bet can go as high as 14% as it is rare, and you are sure that you and the banker will both end up in a tie.
Try and not bet on tie bets as the odds are against you, and it gives the casino a higher advantage due to the house edge. It's known that 9.5% of the time is when tie bets occur, giving the house the advantage. You'll find the odds better in online Baccarat with non-tie bets as the dealer wins around 50.68% of them.  Therefore, you'll have the opportunity to win with a 49.32% chance.
Probability

Learn how you can use probability to maximize your chances of winning real money in online Baccarat. It's not a simple game for those who are starting out, but once you've practiced and understood the rules, you'll be playing like James Bond in no time.
Third Card Drawing Rule
It will be easy to compare who won and who lost once the hand is over. Check this table to determine your wins and losses.
Banker's Points
Player's Third Card
 
 
 
 
 
 
 
 
 
 
 
N
0
1
2
3
4
5
6
7
8
9
9
S
S
S
S
S
S
S
S
S
S
S
8
S
S
S
S
S
S
S
S
S
S
S
7
S
S
S
S
S
S
S
S
S
S
S
6
S
S
S
S
S
S
S
D
D
S
S
5
D
S
S
S
S
D
D
D
D
S
S
4
D
S
S
D
D
D
D
D
D
S
S
3
D
D
D
D
D
D
D
D
D
S
D
2
D
D
D
D
D
D
D
D
D
D
D
1
D
D
D
D
D
D
D
D
D
D
D
0
D
D
D
D
D
D
D
D
D
D
D
D – Draw Third Card                                                                                                        S – Stand on Two Cards
When a player wins, they'll get paid even money
When a banker winds, they pay 19 to 20, which can be compared to even money payouts, less than 5% commission.
On a tie, online casinos typically payout 8 to 1. Also known to be 9 for 1.
Banker and players pair pays 10 to 1.
Top Betting Strategies in Baccarat
Make the most of your wins with some of the top betting strategies in online Baccarat. You can reduce the number of losses by using these strategies that we have listed below for you. However, they won't increase your chances of winning but maximize your game with a fair chance rather than skill.
One-sided: One of the most straightforward strategies to go with if you have a hard time making a choice. This is where a player simply bets either on the banker or the player and sticks to that bet. It's recommended stepping back after losing three times. Once you start to see your bet making a comeback, then it's an excellent time to join in.
1-2-3-4 Strategy: Another type of strategy that falls under progressive betting. In the short term, It's a fantastic way to make small wins. This type of strategy lets player's increase their bets at specific times to avoid future losses.
Paroli: Players use the Paroli system to register three ongoing wins and double their wager every time they win. This system can result in either a loss or win within the three sequential winnings made. It's good to know the three types of bets when using this strategy.
Baccarat Game Variations
When you're now into playing online Baccarat, there are a few that come with their own rules and odds. Don't miss out on finding out what these variations are; that is why we're here.
Punto Banco
Punto Banco is considered to be one of the favorite variations of Baccarat with Canadian players'. This game is played with a set of 52 cards of six decks. The players' bets stay the same as they can either bet on the banker or the player. Once a player has placed their bet, they are not allowed to change their decision, which is why you'll need to think about betting carefully.
Chemin De Fer
The main difference you'll find in this variation is that the player's no longer bet against the banker but against others. This variation is played with six decks of cards, and each player can have a turn of playing banker while the rest remain "Punters." The banker (player) gets to set aside the amount they want to wager. After that, the players who are part of the table can announce "Banco," which allows players to put bets that coincide with the banker's wager initially set aside.
Banque
Banque is one of France's most predominant games and is still well-liked today at Online Casinos. However, not many are familiar with it. This variation is played with three decks that form a shoe, and once the players' have placed their bets, the dealer will shuffle the cards. The banker remains the banker the entire game through or up until their funds run out. This is where the role will be auctioned off to the rest of the players. The player has 3 chances to displace the banker's position.
Online Baccarat Tips You Should Know
Get familiar with Baccarat rules before you start betting.
Get to know the odds and types of bets that you can make
The tie has been known to hold terrible value, first try to bet one-sided.
Just like in any casino game, set your bankroll, and manage it carefully.
Quit while you're winning. It's good to play short sessions; the key here is moderation, and taking it easy.
Understand Baccarat payouts
The player's hand bet is usually paid 1:1
The banker's hand bet is usually paid 0.95 to 1
Tie bets usually are paid 8:1 or 9:1 depending on the house rules.
Always read the terms and conditions before you sign up for a reputable casino.
Baccarat Glossary
Get familiar with this glossary while you're learning how to play online baccarat. These will come in handy when you need a quick guide to help you in a moment's notice.
Baccarat: Others know this as Punto Banco. It's a table game that consists of six or eight decks of cards. The goal is to bet on either the banker or player's hand value that totals to the value 9.
Banco: Spanish word for Bank. This is what you'll find players' call the banker during their online Baccarat game.
Bank: The hand that acts last and is dealt with last.
Banker Bet: Part of the three betting options you can use when playing Baccarat. This is when a player wager's that the banker will win.
Bankroll: The sum of money a player would spend on gambling.
Banque: A rare version of Baccarat in American casinos but more popular in European ones. This is where the banker sits between two linked tables and bets against two players.
Burning: Before the start of the game, three to six cards are removed after shuffling.
Commission: This is a percentage placed on banker bets from the casino, as they're most likely the outcome.
Face Cards: Face cards are made up of the Jack, King, and Queen of any suit.
Flat Bet:  This bet is made up of the same amount of money placed on a bet regardless if the player is winning or losing.
High Roller: This term is used to describe players' who place high bets.
House edge: The percentage ratio and chances a casino places over winning against the players.
Lace: This term is used when there is a random stack of cards placed together.
Mini Baccarat: This is a faster and smaller version of Baccarat. It offers lower table limits and accommodates many players at a time.
Natural: This is when a player has received cards that amount to the value of either 8 or 9.
Pass: Another way to describe a win.
Punto Bet: Betting on the player's hand.
Shoe: This is where the cards are held in a container during the game.
Tie Bet: A tie bet is also known as a stand-off. This is where a player wager's that the game will be a tie.
FAQ's for How To Play Online Baccarat