How To Play Online Baccarat Like a Pro

Learning how to play online Baccarat is quick and easy. It is a card game with simple rules and easy-to-understand bets. With our guide, you will be playing online Baccarat for real money in no time! So whether you want to play Chemin de fer like James Bond or simple mini Baccarat, our guide will teach you the ins and outs of this classic game.
While there are no real strategies to playing Baccarat as it is a game of chance, we can teach you how to make the most of it.
Best Baccarat Casinos for Canadian Players – 2021
How To Play Online Baccarat – The Rules and More
Baccarat is a thrilling game of chance, and while it seems complicated, it is quite simple. It is a slow-paced casino game that is an ideal option for new gamblers. You don't need a mountain of knowledge or skill to start playing for real money so let us go over the basics.
Essentially, Baccarat is all about betting which hand will win. A winning hand has the closest value to 9.
Let's look at the elements that come together to create this exciting card game.
The Table
A baccarat table is surrounded by a banker, a player, and other players who will place bets on the hands of the banker and player.
The Bets
There are three main bets or betting areas available. These are known as Tie, Banker and Player. Betting on the banker and player is a 1:1 ratio. Meaning that if you bet CA$10 on the banker and their hand wins, you will get CA$10 back.
A tie is when the player and the banker have a natural hand. The payout of this type of bet is 8:1. Even though it is a large payout, it is very rare.
The Dealer
The game begins when the dealer hands two cards to the banker and the player.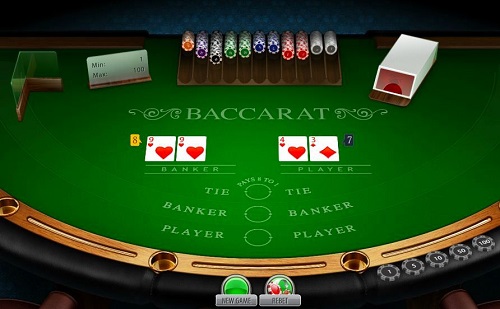 Online Baccarat Cards and Values
The card values in Baccarat are calculated differently from most card games. Keep in mind that the highest score is 9, and the value of any hand can't be higher than that. So the card values work as follows:
Face cards and tens = 0 points
Numbered cards (2-9) = worth their face value
Aces = 1 point
Calculating points when playing online Baccarat differs from other table games. As you can see, all cards have set values, and it is very easy to end up with a 9 and a 6. Does that mean the game is over? Of course not, and here's why.
If the player were dealt a 9 and 6, the total would be 15. The rule of thumb is to subtract 10, making the final value of the card 5. So, in essence, 10 would be 0, 11 would be 1, 12 would be 2, and so forth.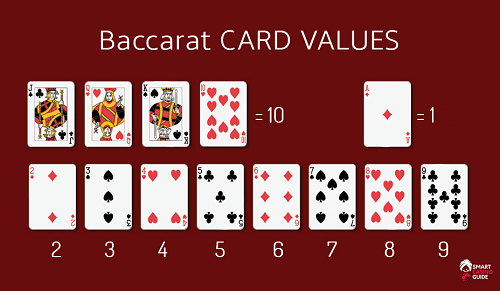 Hand Rules
As the player and the banker have different hand values, it is important to understand what is needed. As someone who will be placing wagers, you need to interpret the various hand values.
The Players Hand Rules
Should a player's hand total 0 – 5 or equals 10, the dealer must draw a third card. If the total is 6 or 7, the action would be to 'stand.' When a stand is in play, there is no need to draw a third card. 'Naturals' are hands that have a value of 8 or 9, a third card won't be drawn.
| | |
| --- | --- |
| Total of first 2 cards | Action |
| 1, 2, 3, 4, 5, 10 | Third card |
| 6 – 7 | Stand |
| 8 – 9 | Stand or Neutral |
The Bankers Hand Rules
The banker rules are just as important as the players. The dealer is the one who starts the action of the game and implements the rules. Here are the bankers' rules:
| | | |
| --- | --- | --- |
| Total of first 2 cards | Draw on The Players third card | Stand on The Players third Card |
| 2 | 1, 2, 3, 4, 5, 6, 7, 8, 9, 10 | 8 |
| 4 | 2, 3, 4, 5, 6, 7 | 1, 8. 9, 10 |
| 5 | 4, 5, 6, 7 | 1, 2, 3, 8, 9, 10 |
| 6 | 6, 7 | 1, 2, 3, 4, 5, 8, 9, 10 |
| 7 | Stand | |
| 8 – 0 | Stand or Neutral | |
| 0 – 12 | Draw the third card | |
In the event of a tie, which is quite rare, there is no winner or loser between the banker and the player. A tie happens when the hands are both naturals, but as we said, it is a very rare occurrence do; we do not recommend making this bet often.
Tips and Tricks on How To Play Online Baccarat
Now that you understand the rules and how to play Baccarat, here are some tips and tricks that can help you. Remember that Baccarat is a game of chance, and there are no real strategies to ensure you win, but you can utilize tips to better your chances.

Familiarize yourself with the rules before you start betting.
Know the odds and bets available.
Do not bet on a tie. Experts advise that it is too rare and the house edge is too high.
Set a limit and stick to it to manage your bankroll effectively.
Understand each Baccarat payout.
If the banker loses, skip the next bet. Pay attention to who wins the round that you have skipped. And in the next round, choose the side that one in the previous round.
More how to play guides for Canadian gamblers
How To Play Baccarat FAQ's